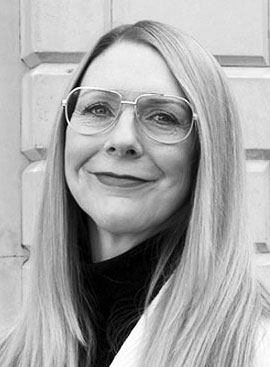 I first met the dynamic art historian and curator Matthieu Lelièvre when we found ourselves stationed in neighbouring gallery booths at an art fair in Basel in 2009. I was representing Ceri Hand Gallery alongside my wonderful Gallery Manager Lucy Johnston. Matthieu was representing Hamish Morrison Galerie, alongside the lovely and charming Founding Director Hamish.
We quickly discovered that we all bonded over a serious commitment to our artists and the hope and joy they bring to our lives, whilst sharing a gleefully devilish sense of humour. Our squawks of delight in the banal certainly helped break the waves of inevitable crushing tedium and paranoia experienced intermittently during the run of the fair.
I kept in touch ever since, visiting Matthieu in Berlin and Paris, following his intrepid adventures in the artworld and enjoying his programming immensely. We continue to connect over a shared love of visceral, darkly playful interdisciplinary artworks and working with artists who challenge perception and societies norms.
I admire the pace that Matthieu works at and enjoy his ability to consistently conjure something from nothing. I connect with his grit and determination to effect positive change for artists and audiences. His willpower and delight in decolonising the institution and engaging a more diverse range of creatives and audiences in a collaborative dialogue is much needed right now.
I also love our conversations. His generosity in sharing and exchanging knowledge and skills is the kind of expansive thinking and community building attitude I believe wholeheartedly in. I am always keen to know what he does next and love seeing him lifting others up wherever he goes.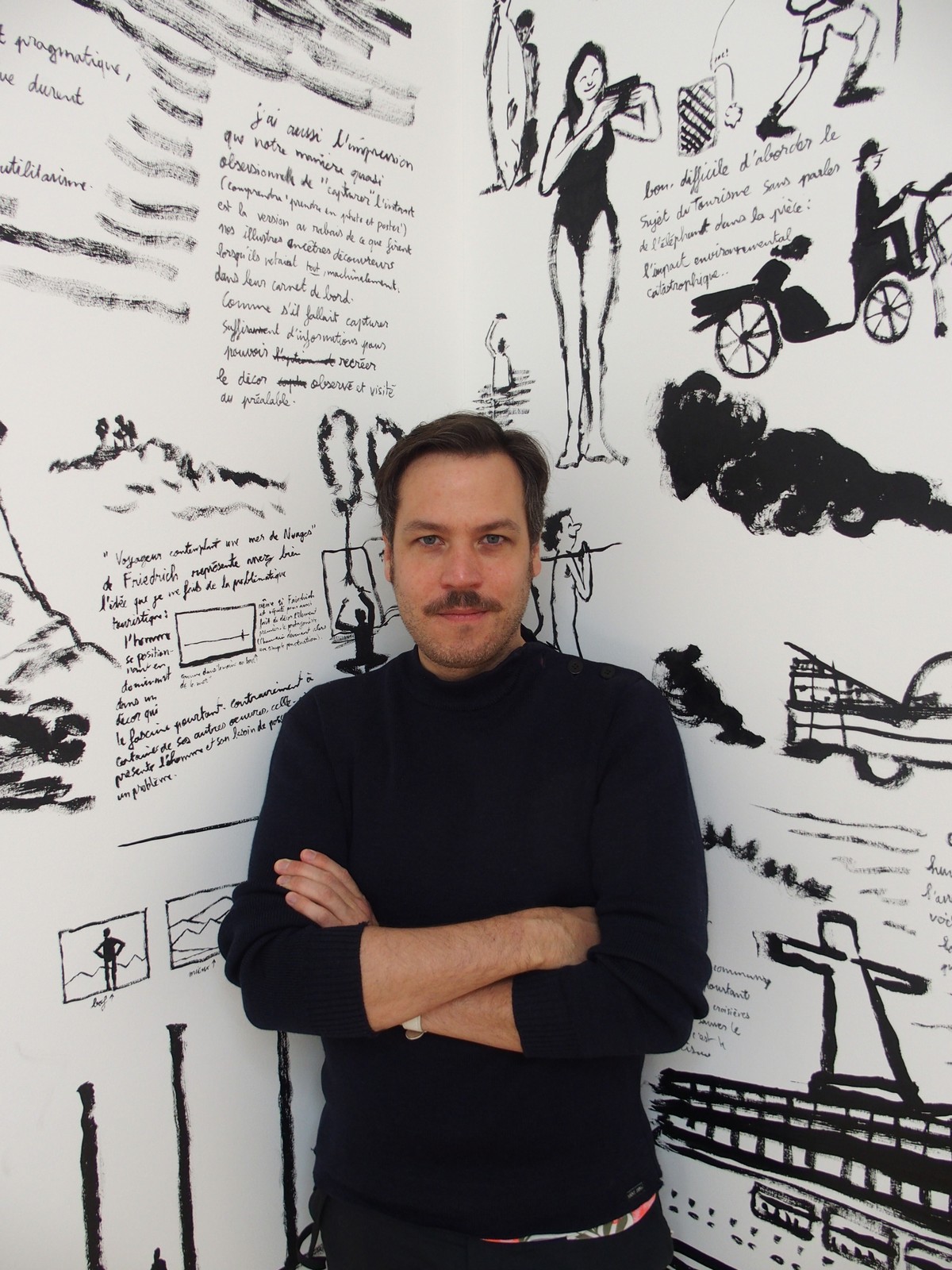 Matthieu Lelièvre, Copyright E Vion-Delphin, Artwork by Jean Jullien
Matthieu Lelièvre is an art historian and independent curator for contemporary art. Since 2018 he has served as Artistic Advisor at Contemporary Art Museum in Lyon (macLYON), developing a programme dedicated to international emerging artists and international relations. Simultaneously, as a writer and an independent curator, he is currently developing several exhibitions, performances and workshops with artists and organisations in Brazil, Italy and Tunisia.
Previous experience ranges from curator and head of collections for museums and galleries such as the Musée des Arts Décoratifs, independent foundations and commercial galleries, including Galerie Thaddaeus Ropac In Paris and Hamish Morrison Galerie in Berlin.
From 2016 to 2018 he joined a private foundation as its Artistic Director to build the prefiguration of its artistic and artist residency program, while initiating a collaboration with the Fine Arts Museum of Orléans, developing several exhibition's projects of emerging artists in dialogue with the museum's collection and the city's history. In 2019, he joined the Palais de Tokyo to co-curate the 15th Lyon Biennale Where waters come together with other waters.
Matthieu graduated from a MA in Museum Studies at the Ecole du Louvre and a MA in art conservation at the French Institut National du Patrimoine and has served on several boards and juries.
What are you doing, reading, watching, or listening to now, that is helping you to stay positive?
It is a very good question! It is very important for me to constantly discover new things and as it is impossible to attend to concerts, exhibitions, meet new people, I really had to question myself on how to keep learning and discovering in this restrictive context, especially now that everything is and must be online. So, I subscribed to several newspapers and I gave myself some challenges like learning Russian and reconnecting with a love from my youth: video games. It gave me of course the opportunity to dig even deeper the subjects I am working on.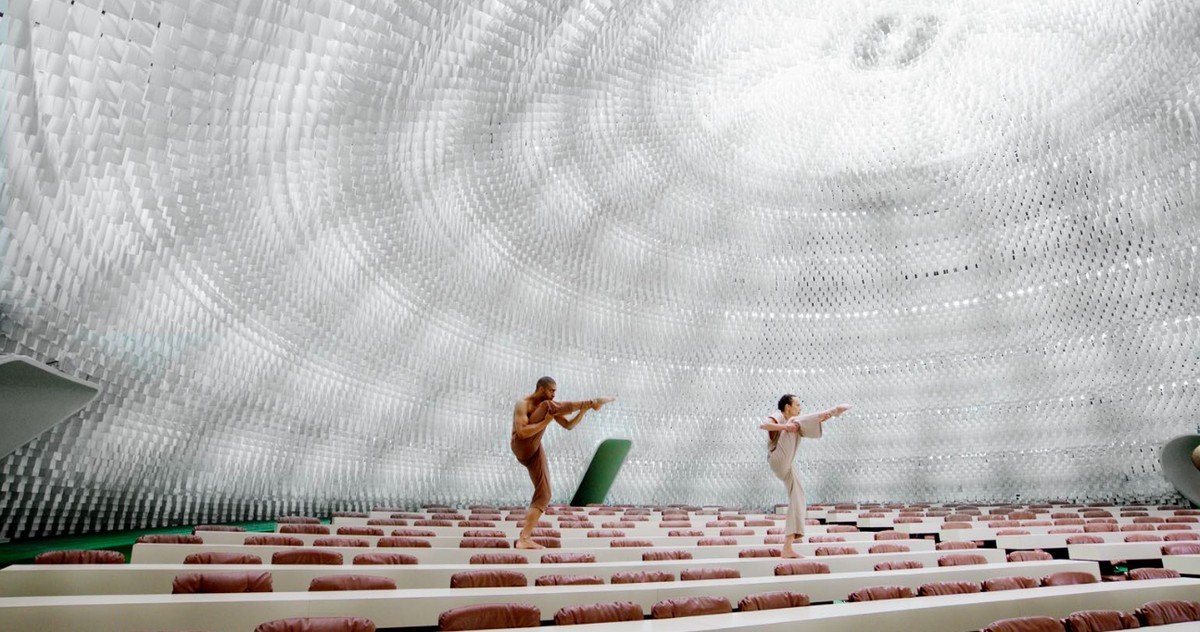 Jasmina Cibic, « The Gift », 2019, 3 channel video, Courtesy of the artist
What are you working on right now?
A lot of different projects. For the Contemporary Art Museum in Lyon, which I accompany as an artistic advisor, I am still working on the exhibitions we opened last October, and I prepare some new projects, for example the first solo show in France of London based Slovenian artist Jasmina Cibic, or later solo show of Jesper Just and Mary Sibande in 2022.
Simultaneously I am working with a Rio-de-Janeiro based foundation, InclusArtiz, developing a residency program for Brazilian artists at the MADRE in Naples, Italy, and we should start the program next fall if everything is going as planned.
Also, I am working on several projects with the Tunisian art scene, work I have been developing for some time now. Next spring should open a solo show of Thameur Mejri at the B7L9, the art centre of the Kamel Lazaar Foundation in Tunis.
How has this year affected your ideas of what you want your contribution to be in future?
The purpose of a museum today. At the Contemporary Art Museum in Lyon, I am accompanying the institution to develop some ideas and values, thinking around the museum's role in society, questioning the established standards of our programmes, for example thinking of ways to co-create with new publics. Questioning the process is a never-ending job which is also fascinating because the pandemic really pushes us to renew the practices. I have worked for different structures including teaching and working with the art market. These past months have just reinforced my desire to have a curatorial practice with can help society opening its mind, based on a social dialogue. Taking the opportunity as a producer of content to defend some values and causes. In three words: to be useful.

Edi Dubien, macLYON, 2020, Copyright Blaise Adilon
What is one of your personal favourite exhibitions you have curated and why?
The most recent one which opened this autumn at museum of contemporary art, Lyon, in France. Man of a Thousand Natures is the first museum solo exhibition of an extraordinary self-taught artist named Edi Dubien. There is a lot of happiness and pride in this exhibition. Edi Dubien, through a marvellous series of drawings and sculptures shares his thoughts and experiences about an abusive childhood, a beautiful and constructive vision of Nature and some fierce messages about gender transition. In this context, we are working with fantastic people like Eva Hayward a writer and a faculty member of the Department of Gender and Women Studies at the University of Arizona, and sociologists and activists defending the cause of trans and intersex children and teenagers.
Beside presenting extraordinary artworks to the public and a beautiful show, the exhibition and its program serve a strong and progressive purpose which turns the museum into a platform of discussion and exchange but also brings consciousness and give voice to trans and intersex people. So, my pride comes from the fact that we succeed in delivering both at the same time a marvellous exhibition and a strong and useful message.
Can you describe what you ideally want to achieve when curating an exhibition? What would you hope that people experience and learn from experiencing one of your creative outputs?
Serving the artist in spreading his/her message. Helping young artists finding their audience and helping them in the process of professionalisation. When I open an exhibition, I don't feel excited because I receive feedback that it is "beautiful", but I am when I am told that it is interesting, challenging and that the show raises questions in the mind of its spectators. In that way I think of the spectator as an actor of the exhibition. I identified several topics and social issues I feel directly concerned by and I am doing my best to be useful, being a voice or an ally to these causes I consider to be important to defend. I don't believe that art should necessarily "bring people together" I think it should open minds, bring awareness and self-consciousness. Give a space of expression and affirmation. That is why I am very attentive to work with women, LGBTQI+ and diversity, racial and gender…But working in public institutions forces us to work on other subjects, less personal for the sake of the diversity and the spectrum of the audience. That is why I love the opportunity of co-curating and collaborating with other professionals.
Thameur Mejri, Walking Target, 2020/21, Courtesy Galerie Selma Feriani
What do you offer or provide artists in the curatorial relationship?
The good side of having worked in commercial art galleries helped me to question and find my role in the chain between accompanying the artist being an artist, helping him/her developing their project, finding their audience, promoting it, placing the works in private and public collections, and helping them getting the attention from curators and press. Even anticipating the questions of the future like its conservation once in the collections. That range of experience gave me a lot of different skills to work with an artist during all the steps of their professional life. At the same time, working for commercial galleries, I was not interested in the process of selling but rather helping the artist building their career, so now, even as a museum curator, I am always paying attention to the global, not just getting a work done for the purpose of the show, but helping the artist's process, to think, anticipate, produce, and place his/her work. I develop also quite often a very strong connection with the artists I work with, always remaining if not a friend, at least an advisor, a collaborator and sometime a mentor, connecting, writing for them. As I am working on several precise topics, the road does not end once the show is opened.
What risks have you taken in your career that perhaps did not go so well but you learnt the most from?
The good thing is that, with the right attitude, learning from your mistakes can bring so much more, than the damages or pain caused by the actual mistakes. There are not so many things I would have done differently because they brought me where I am today. That will sound cheesy, but I think that in a career the biggest risk is to not take risks. And if you have regrets, you are also learning to use this consciousness to adapt your choices and find more energy to move and act. For me I could give the example of having trusted at some point the wrong people, but I learned so much from that, that I really cherish the lessons. I learned for instance more about the reasons why I am doing this job, and how art can serve a bigger purpose in our societies.
What was the last artwork you purchased and why?
During the lock-down Paul Pretzer, a fantastic painter I worked with in Berlin, 10 years ago and who is quietly and beautifully developing his career in Spain yet remaining at the same time very true to his aesthetic, posted a picture of an artwork on Instagram. I asked him about the story behind the painting, the price, I considered it for ten seconds, and I jumped in. I had the feeling that it could help him, but also… it helped me. Literally cheering up, (it's a very funny and cute painting…) and gave me back the feeling that despite the distance, art keeps people close to each other.  During the COVID-19 crises many artists are severely impacted by the reduction of possibilities, cancellation of residencies and exhibitions as well as the slowing down of the sales in the galleries.
What helpful resources would you recommend to artists?
Mostly to care about the people and to build strong connections. On the contrary of some romantic idea, Artist as a profession is not a job you do alone.
Do you have any advice for people wanting to work in the arts?
I'd like to address mostly to people who might think that working in the arts is not for them. Mostly people who hear about it but have the feeling this is a world they do not belong to. I want to say that their lives, their experience, and vision is probably going to serve a bigger purpose and help other people.
Follow Matthieu on Instagram @matthieu_lelievre and Twitter @matthlelievre  
Join the FREE Artist Mentor community 
Register here to subscribe and receive FREE:
Resources, hacks and tools
Unique insights into the art world
Extracts from interviews with artists and arts professionals
Special offers and discounts
Monthly creative advice surgeries with art world insiders e.g.

Artist Mentor Subscriber Special: Case Study – Commissioning
Weds 24 February 6pm – 7.30pm
Artist Mentor Founding Director Ceri Hand will provide some real-world examples of the highs and lows of commissioning artists from a curator, commercial gallerist and artist perspective. Ceri will share some candid no-nonsense tips to enable artists and creatives to make the most of any commissioning opportunities. This is an informal friendly session, with plenty of opportunity to ask questions. Subscriber sessions are not recorded, to ensure a safe space and privacy, enabling a frank dialogue with attendees, enabling creatives to get no frills art world insider intel. When you subscribe you will be contacted by email and provided with the required Zoom meeting ID and passcode to join this event.
Please share this interview
[DISPLAY_ULTIMATE_SOCIAL_ICONS]
And do feel free to email or contact us via socials @cerihand