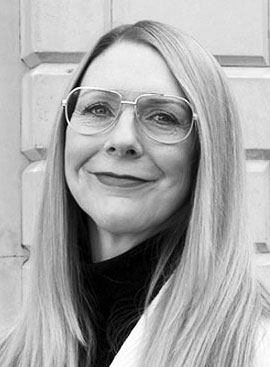 The artist Cecilia Sjoholm first introduced me to Louise Chignac, the Founder and Director of Canopy Collections.
Louise and I share a passion for helping artists get their work into the world in new ways, and both started new online initiatives in 2020, in the heart of the pandemic. It's been wonderful to see Canopy Collections go from strength to strength and artists making a living through their endeavours.
I'm a huge believer in expanding opportunities for artists, and Canopy Collections is a great example of how careful curation combined with commitment to the experience for both artist and audience can create lifelong relationships and champions.
Read on to hear what drives Louise and what kind of support she offers artists…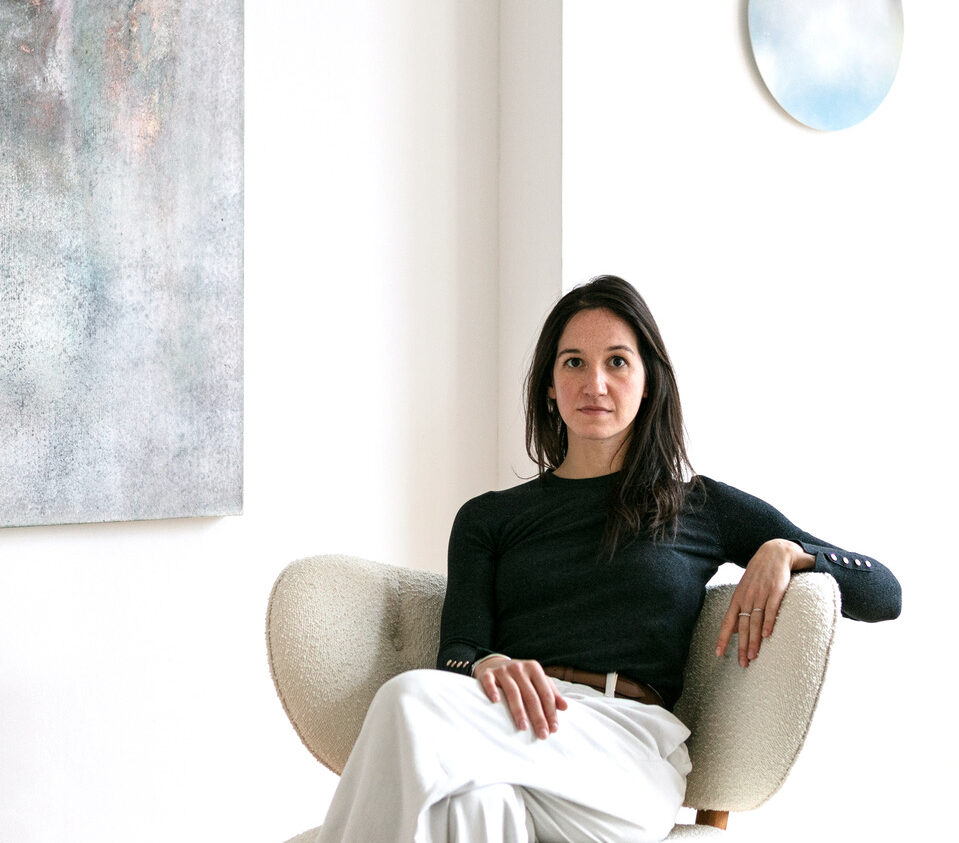 Louise Chignac, Founder and Director of Canopy Collections © Ollie Hammick / Canopy Collections 
Louise Chignac (b. 1990, Paris) has a ten-year experience as a contemporary art curator, critic and consultant.
She started her career in 2010 as curatorial assistant to Guillaume Désanges (now President of the Palais the Tokyo, Paris). After studying art history at La Sorbonne University in Paris, she moved to London to complete her MA in Curating at Goldsmiths College.
From 2014 to 2018, she managed Cranford Collection, one of the most significant private collections of contemporary art in Europe. She has also collaborated with international galleries, including MOT International, London and Brussels, The Gallery of Everything, London, and Ordovas, London and New York.
In 2015, she contributed to the inaugural edition of the Art Night festival in London and co-edited its first publication, Expanding the City's Boundaries.In 2016, she collaborated with Christie's London on a major private collection sale entitled Absobloodylutely! and its original catalogue.
As an independent curator, Louise has exhibited the work of Francis Alÿs, Susan Hiller, Pierre Huygue, Derek Jarman, Laure Prouvost, Dan Rees and Ulay.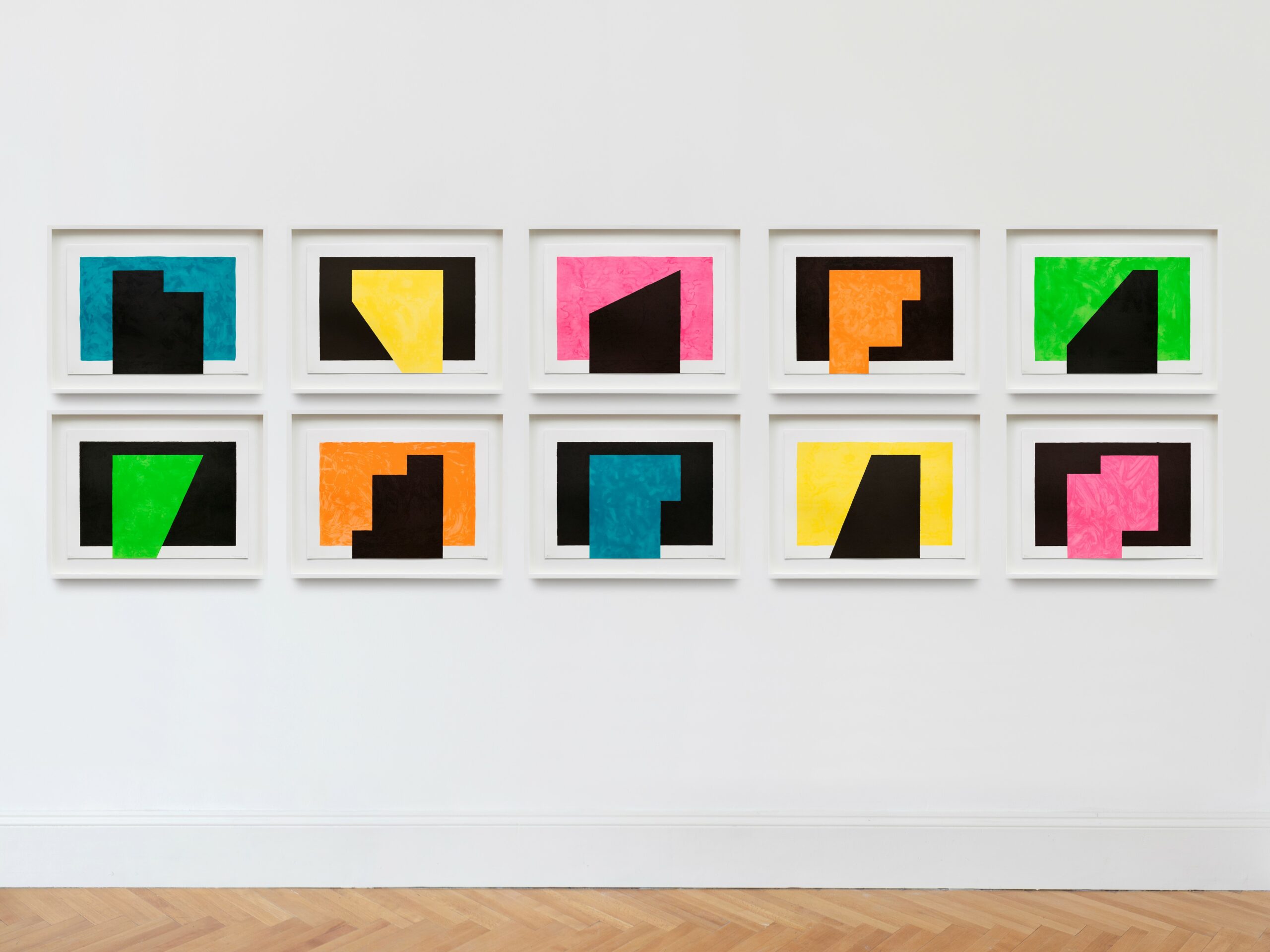 Chromoscape by David Batchelor available via Canopy Collections @ Ollie Hammick / Canopy Collections
What's currently inspiring you?
People, and their home! Since launching Canopy Collections in September 2020, I've become fascinated by what people choose to display in their interiors, be they sentimental objects, postcards and pictures, an original artwork or statement design piece. Most of our relationships with clients start with discussions around living with art, rather than in a white gallery space, which feels more intimate.
What are you working on?
We just closed an exhibition curated in collaboration with Bowman Sculpture in the heart of St James's, London, in which we presented eleven artists ranging from the 19th century to the present day, including Auguste Rodin, Barbara Hepworth, Emily Young, Richard J. Butler and William Cobbing. This project was born out of an invitation from Robert and Mica Bowman and it's been a great pleasure to work with their team on creating such an original display that combined historical pieces along with new paintings and sculptures by emerging artists.
I'm now working on new collaborations, including on a bespoke programme of art events with BARNES International at their South Kensington showroom. Our first exhibition with them presents a new selection of paintings by German artist Jost Münster, which is open to the public until September.
We've also just announced an exclusive online collaboration with British artist David Batchelor, which is a great honour! The launch of ten lithograph prints on Canopy Collections coincides with his first museum retrospective at Compton Verney, to open at the end of the month — check it out online!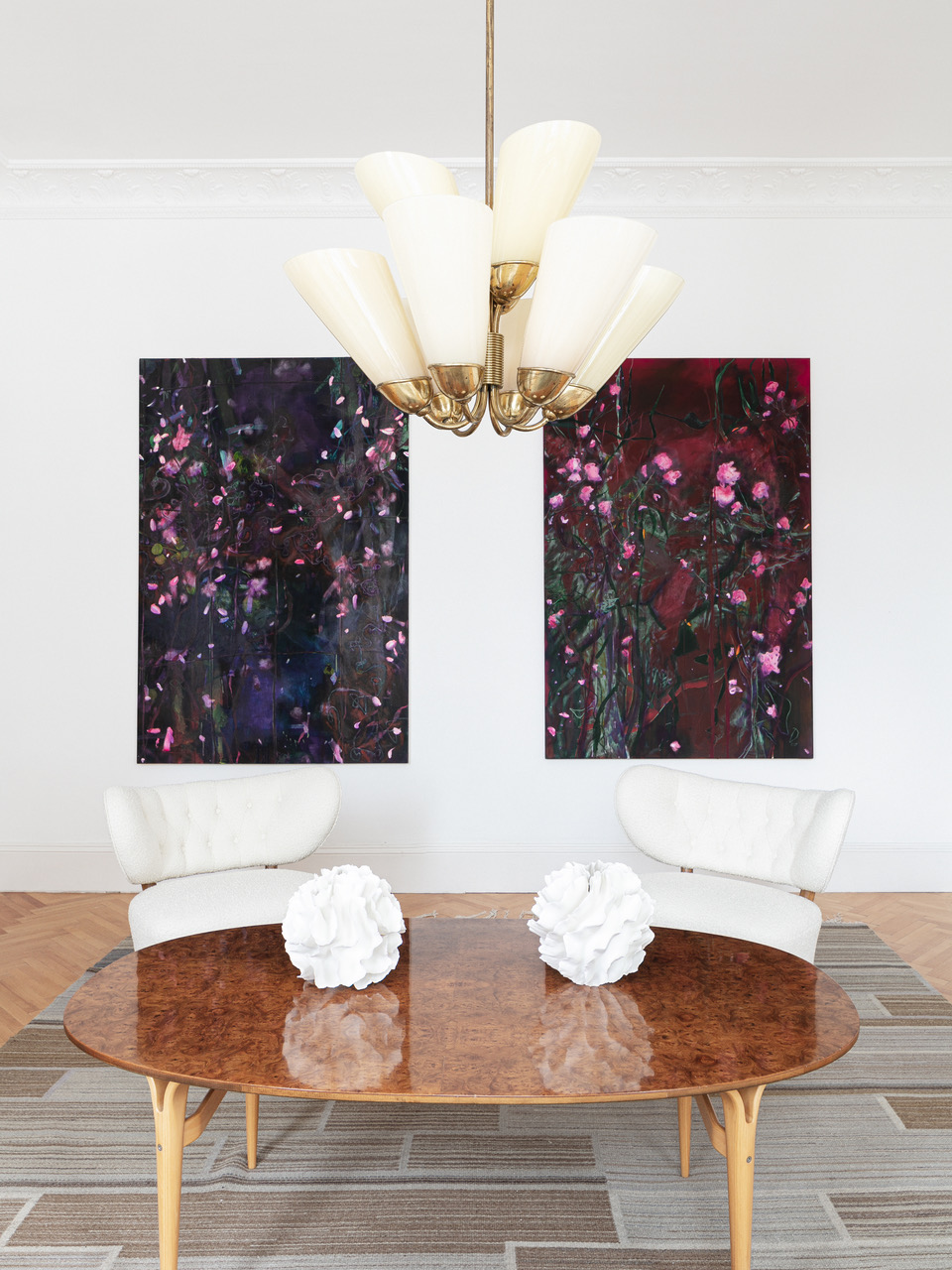 Installation view, Canopy Collections x Modernity Stockholm, an exhibition in London, 2022 © Ollie Hammick / Canopy Collections
What are your core values and drivers that you bring to your work? What do you care about?
At the centre of everything I do is the human relationship, whether it is with artists, with clients or with our professional partners. The art world can be a rather difficult environment to navigate, whether you're new to it or part of it. That's one of the reasons why we created Canopy Collections, to provide a curated platform where everyone is welcome, to browse, to learn, to look for advice and to buy art, without the unnecessary faff.
Who are your mentors?

I've had the privilege to work with incredibly strong and intelligent women over the past ten years, especially with collector Muriel Salem and curator Anne Pontégnie. We worked together for five years at Cranford Collection in London and I still have a very close relationship with both of them. I learnt a lot from Muriel's sharp eye, and from Anne's attitude towards artists, her knowledge of the market and the world of institutions.
A very different experience — I will always remember working with Susan Hiller on curating her solo exhibition at MOT International in Brussels when I was 25. Without her knowing it, she taught me a lot. Her determination and precision were very inspiring.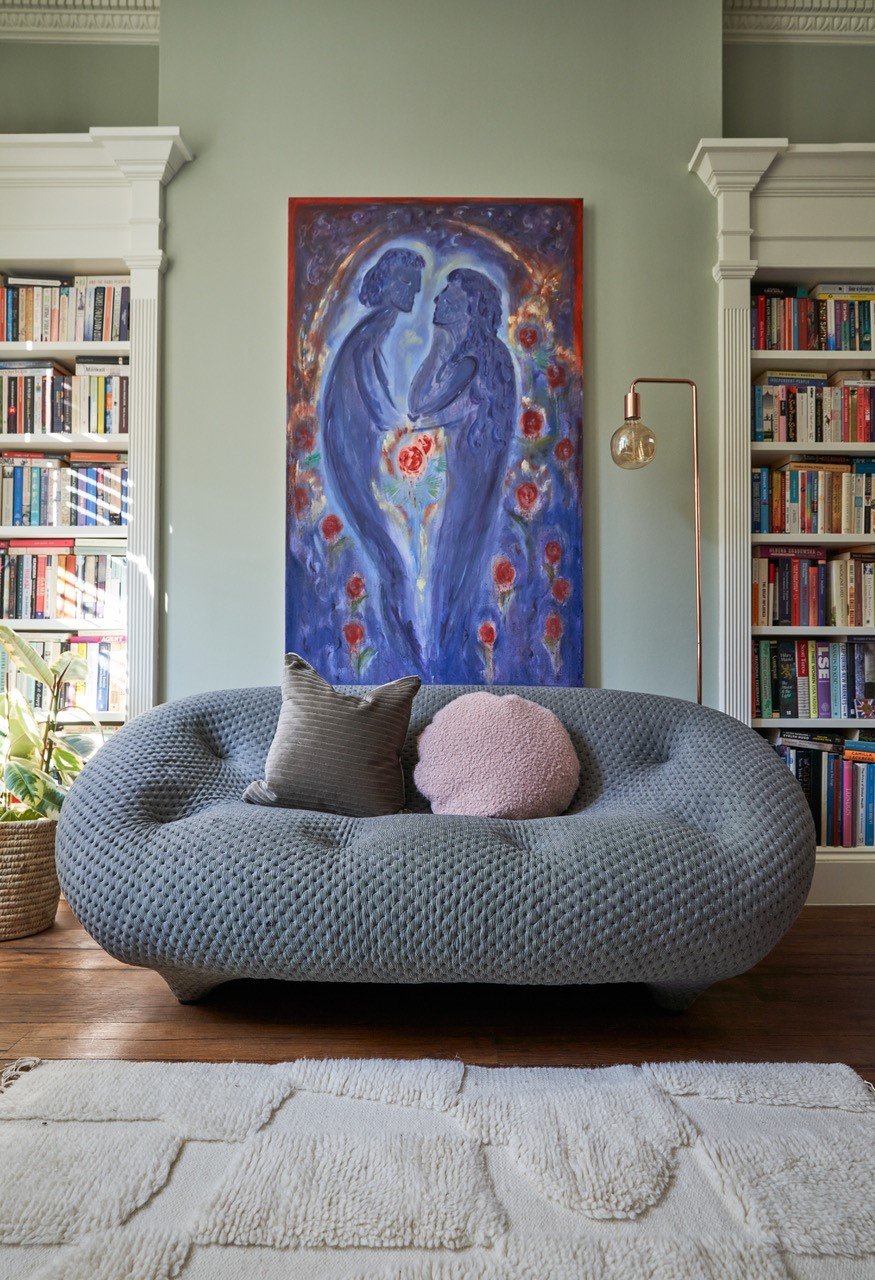 A painting by Salomé Wu in a collector's home, London, 2022 © Sidika Owen
How do you discover artists and what makes you decide you want to work with an artist?
By coming across their work, always, whether it is online or in a physical exhibition, or an artist getting in touch with me! Then I look at their work very closely, their CV, and if I'm intrigued, I ask to meet them. I only choose artists who have a solid dedication to their practice, and whose work has a strong identity, recognisable amongst many. The selection process never happens overnight, it takes time to fully understand the development of an artist and to nurture a long-term relationship. It is also a responsibility and a commitment, as I want to present our clients with artists who have a great potential and whose work really is special.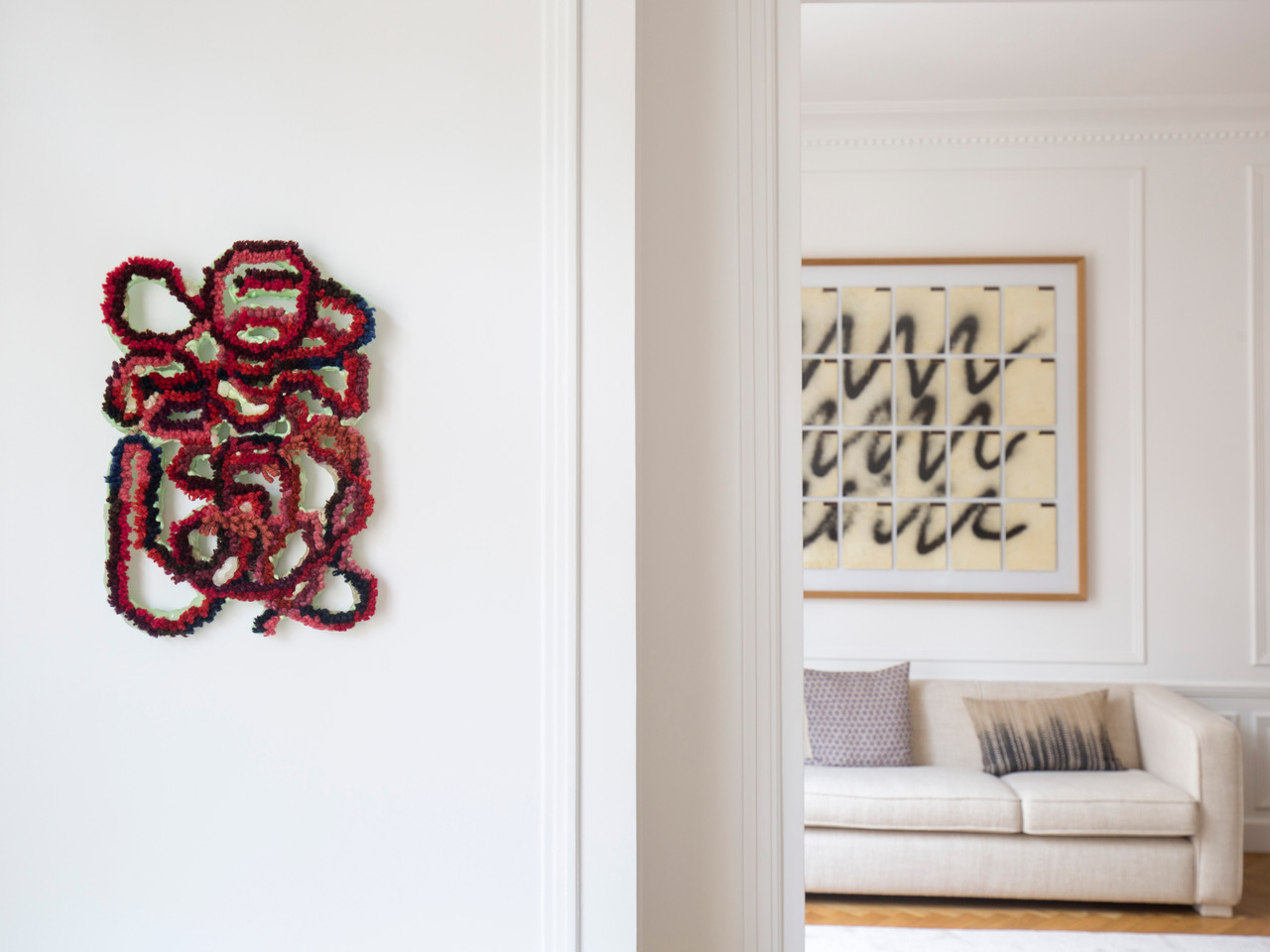 Installation view of Words Don't Come Easy, Canopy Collections' first exhibition in Paris, 2021 © Ollie Hammick Canopy Collections
What kind of support or expertise do you offer or provide artists?
Artists need different things, depending on the nature of their work and where they're at in their career. I'm currently working with over twenty-five artists, mostly based in the UK and all over Europe. They often come to me when they have new work they want to talk about or need advice on a new project, whether it's a museum exhibition, a public commission, or a new book they're working on. As much as possible, I do regular studio visits with them, and of course I curate exhibitions to introduce their work to a wider audience. Most of my job consists in keeping up to date with their artistic production, and then share it with other actors within the art world and beyond — collectors, advisors, curators… I believe there are plenty of ways to promote an artist's work that haven't been fully explored yet, and that go beyond the traditional white gallery space and market. I'm lucky to work with artists who share this vision and trust me.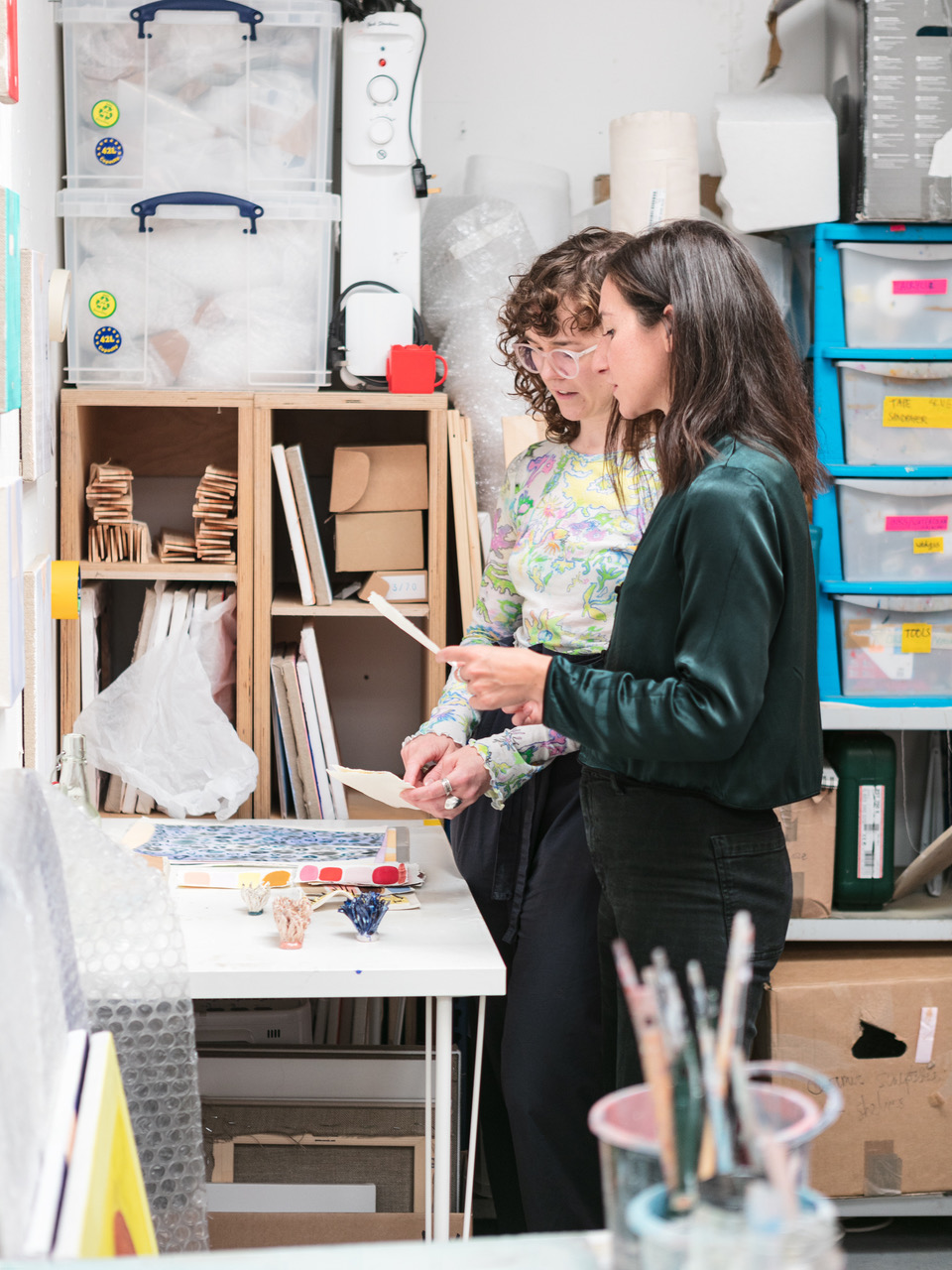 Louise Chignac and artist Ellie MacGarry at her London studio, 2021 © Ollie Hammick / Canopy Collections

How do you go about building a market for an artist?
There was a time when this was the main responsibility of the gallery, but over the past few years it has also become the artist's duty: to have the right connections, to grow a substantial number of followers on social media and to be 'successful' (i.e., represented by a gallery or exhibited in a public museum) by the age of 30. I have a lot of respect for artists who excel at promoting themselves, but I also think it's not for everyone. Building a market for an artist most often takes time, to me it's all about commitment — for the artist to be committed to their practice, for their patrons or clients to be committed in their support and for anyone around to be committed to the conversation. There are many artists out there who haven't had the recognition they deserve yet, but if their work is good, I do believe that commitment often pays off.
Since Canopy Collections doesn't have a permanent space, a lot of our work when it comes to promoting artists is done through collaborations: Bowman Sculpture, the Van Gogh House, Modernity Stockholm, The Invisible Collection, Turnbull & Asser…we've had the privilege to collaborate with outstanding galleries and brands over the past two years, which contribute to raising our artists' profile and reputation.
What risks have you taken in the past that did not go well but you learnt the most from?
Working with people I knew I wouldn't get on with. It never works out in the long term, especially when it comes down to values. I feel so lucky I can choose who I work with now, and to have the best business partner in the world: Cécile Ganansia.
Cécile Ganansia and Louise Chignac, Directors of Canopy Collections in their London office @ Ollie Hammick / Canopy Collections
What are your highlights since starting Canopy Collections two years ago?
The launch of our very first online collection of course, and the moment we realised that it nearly sold out. Exhibiting our artists at the historic Van Gogh House in London. Our website being awarded by Site Inspire for its sharp and user-friendly design. Receiving a phone call, out of the blue, from a very established collector (who I can't name here), to tell me our selection of artists was outstanding and that they hadn't come across a better online gallery yet. And the fact that the Covid years have finally come to an end (I hope!).
Follow @canopycollections Instagram or visit canopy-collections.com
Join the FREE Artist Mentor community 
Subscribe now to Artist Mentor Newsletter for a free guide to marketing, access to unique online events, including group coaching and 'In Conversations' with special guests, and unique insights into how the art world operates from leading industry professionals.