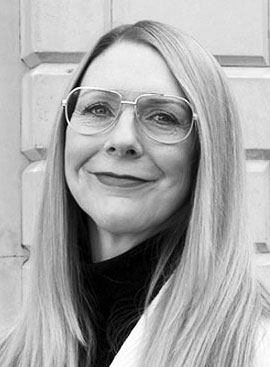 Paul Hedge is the co-owner and founder of Hales gallery, located in London and New York.
Over the last three decades he has skillfully ridden the relentless waves of change in the art world.
As an evangelical arts enthusiast, he has an irresistible way of communicating the transformative power of art. He is deeply curious and has developed an encyclopedic knowledge of artists, movements and the cultural contexts that have shaped them. He is a warm, generous host, and captivating storyteller.
In every exchange, Paul's genuine love and appreciation of the artists he works with is evident. He is truly delighted when anybody connects with the artists and artworks he shines a light on.
I appreciate Paul's eye, his programme and that he sees opportunities where others see obstacles. I have so appreciated his generosity, time and support over the years.
Paul Hedge, at Hales London, 2017. Photography by Charlie Littlewood
Paul Hedge was born in Stevenage New Town in 1961 and is the Co-Owner/Founder, Hales (London/New York). He studied Fine Art at Goldsmiths college in the early 1980s, gaining a first-class hons degree. He was a co-founder of the short lived but innovative Scratch Gallery, one of the first pioneering, artist led spaces in London, located in New Cross.
In 1992, after art school and nine years working as a postman, Hedge, along with his business partner Paul Maslin, opened Hales. The gallery produced numerous influential shows in the 1990s with artists including Jake and Dinos Chapman, Mike Nelson, Hew Locke, Sarah Jones, Richard Woods, Hans op de Beeck and Tomoko Takahashi. In 2004 Hales relocated to The Tea Building, a former warehouse space at the heart of in London's Shoreditch, a site that the gallery occupies till today. In 2016 Hales, opened a gallery space in New York's Lower East Side, relocating in 2018 to the district of Chelsea.
Today, the gallery represents a wide array of international artists and artists estates and is a regular on the international art fair circuit.
During his time in the art world, Paul Hedge has served on the boards of The Contemporary Art Society and The Society of London Art Dealers. He has lectured extensively and has acted as an advisor to artists and collectors.
Paul Hedge and Paul Maslin, Deptford, London,1996
What are you doing, reading, watching or listening to now that is helping you to stay positive?
I generally take a very positive approach to anything and everything. "Enjoy yourself, it's later than you think". If I ever had the desire to have a tattoo then this quote would be at the centre of it!
The Specials version of this 1949 classic penned by Herb Magidson with music by Carl Sigman is a tune I have been returning to (among many other things) for a headphone moment over this lockdown. It's a cheerful number with a simple message.
Of course, I understand that it is not possible to enjoy everything in life, (I too have my dark nights of the soul) but I generally believe that good things can be drawn from seemingly very unpromising moments and this view is supported by my experience. This simple song drives me on. I say to myself, "get on with your mission Paul, and do it with cheer and good grace!".
I'm currently reading a very eclectic group of books which I'm dipping in and out of. I have been reading  material associated with the curator Lawrence Alloway's exhibition, Situation which took place at the RBA galleries in 1960.It is quite an important show for those of us interested in the development of abstract painting in Britain.
There is so much to know…it never stops!
My 83-year-old mum sends me a bible verse each day which I look at first thing in the morning. The bible is quite a read!! One day she might send me bloodshed and slaughter and the next day is all peace and love!
Other than that, I'm reading gardening books. I'm currently getting my head around garden designer Nigel Dunnett's essential guide to naturalistic planting. It's very engaging! The Sheffield botanists are making all of the big leaps forward.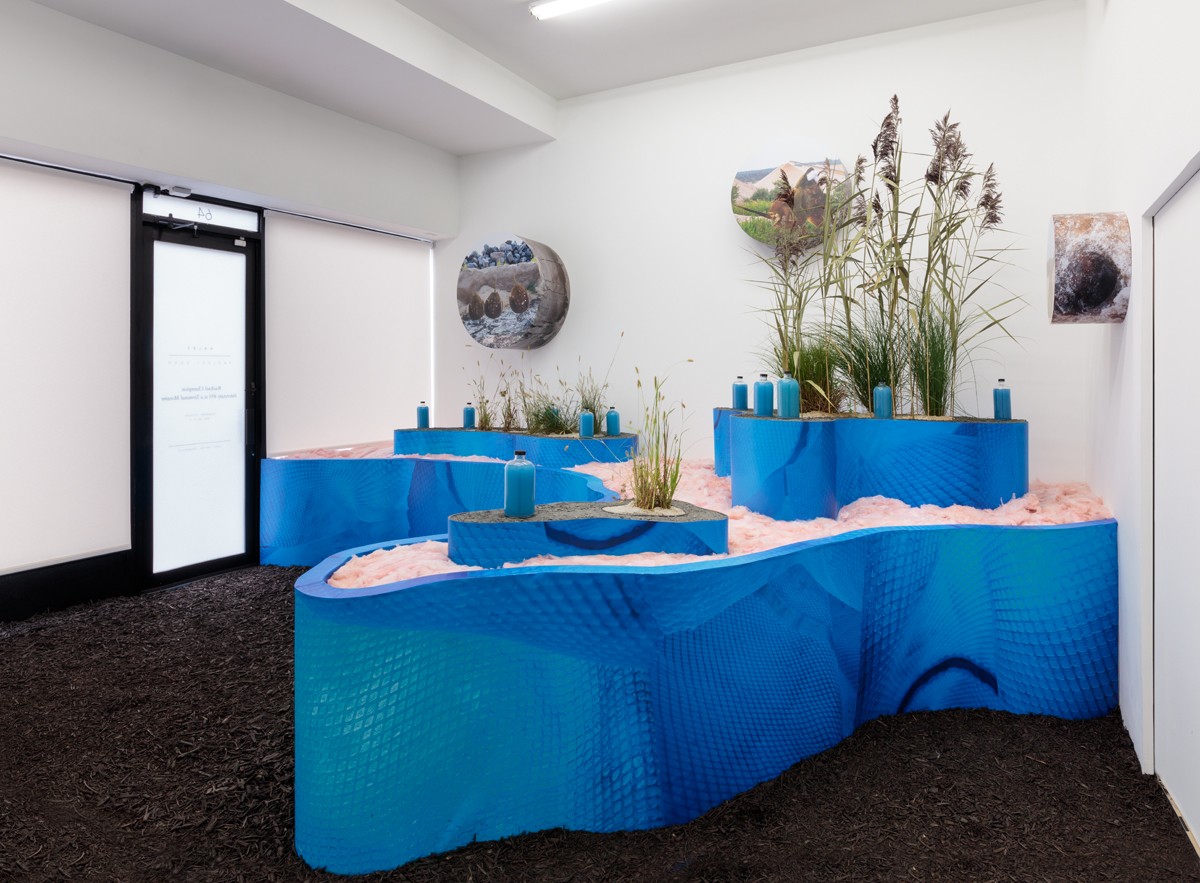 Rachael Champion, Interstate 495 is a Terminal Moraine, 8 September – 13 October 2018, Photo by JSP Art Photography
What are you working on right now?
I have become aware that there is an audience for what I have to say about my thirty years working as a dealer in the art world. It's not been a predictable journey and more of a roller-coaster of events than anything else. I think my working-class background makes me a rare beast among art dealers and so as a consequence, I have been writing about my experiences with the aim of encouraging others. A book maybe??
I have also latterly discovered Instagram. I was never very keen on social media but I have inadvertently developed my own idiosyncratic diary style of presenting an image with a related short text each day. It's a (sort of) analogue approach to the digital world and runs quite separately to Hales social media. I have made it what I want it to be and I am comfortable with that. It's quite nice to be able to present contemporary art in the context of other things. Cooking, gardening, studio pottery, interiors, in fact anything is fair game I think.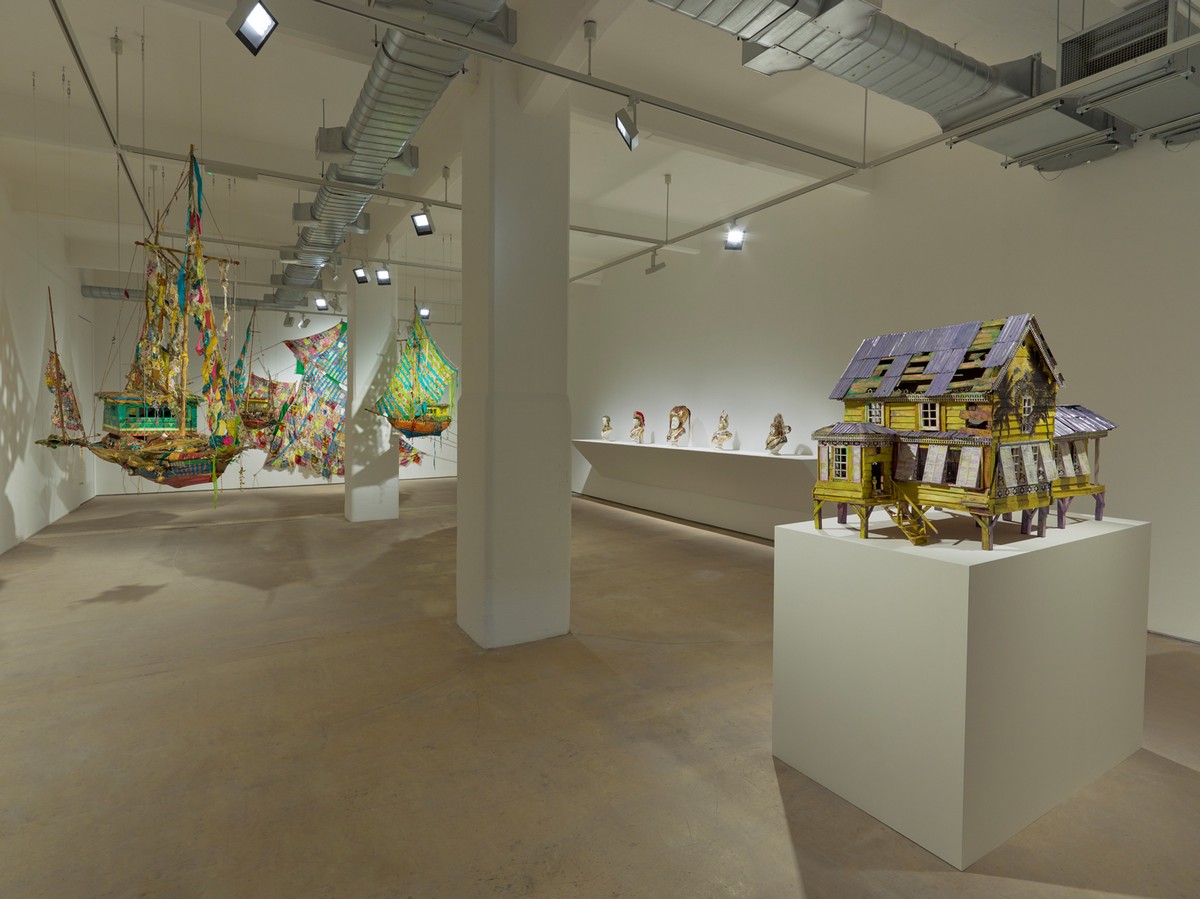 Hew Locke, Where Lies the Land, Hales London, 26 September – 9 November 2019, Photo by Anna Arca
What are your core values and drivers that you bring to the gallery? What do you care about?
Most commercial art galleries are a labour of love and that is how we have always run Hales. I personally care about it! Every detail! All of it!
I talk about Hales in the plural as we are a very tight knit team. There is much more to Hales than me. We like each other and we enjoy working together. Over the course of my career, I have seen the London scene grow from punk-style DIY into a highly competitive capitalist driven marketplace. I often ask myself how somebody with essentially socialist values should behave in the face of that?
Simply expressed, I would sum up my response in this way: Be aspirational, be honest, be efficient and be kind!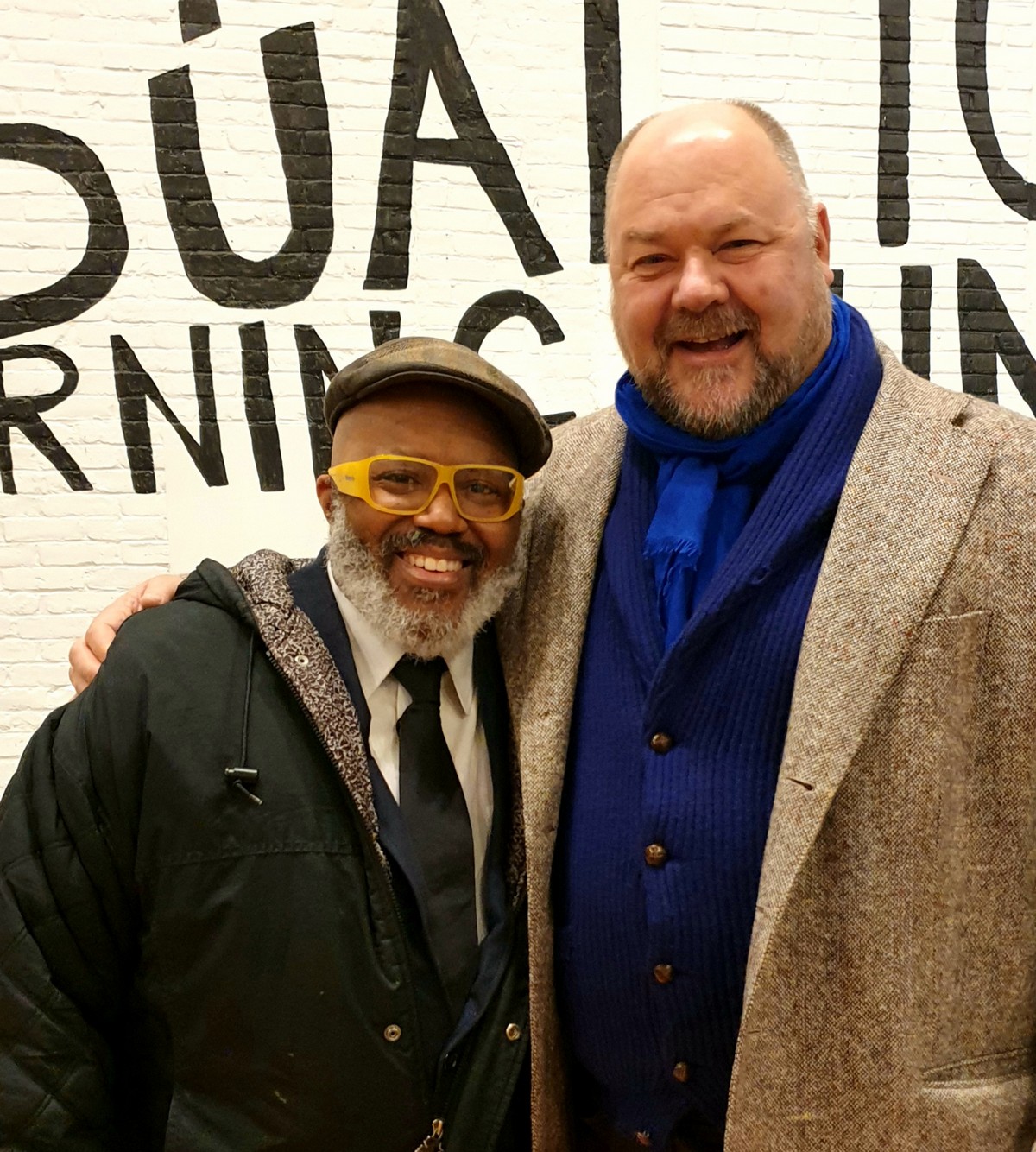 Paul Hedge and Trenton Doyle Hancock at Mass MoCA, 2019
How has this last year affected your ideas of what you want your contribution to be in future?
Anyone who says they have breezed through the time of Covid is not being entirely truthful.
The pandemic has put the cat among the pigeons and has posed an existential threat to an art world reliant on travel and gatherings. I have been looking at my personal carbon footprint. It is much bigger than I would like. I am thinking more carefully about how I can do my job in the face of possible catastrophic climate change. It is certainly making me rethink.
This quiet period of reflection has also been good in regard to re-thinking the positioning of the artists and estates that Hales works with. I would like to be able to say that we (at Hales) have shone a light upon artists and placed them within a context that people can understand and enjoy. Part of my job is to shine that light as brightly as possible!
What do you enjoy the most about running a commercial gallery?
When Hales opened in 1992, we had little cash but we decided that above all, we wished to avoid any reliance upon conventional sources of funding. Essentially, we felt that the freedom afforded us by being able to make decisions independently of political interference or dictates from on high would be a preferable route to take.
At the time this meant that we earned our livings from the frothing of cappuccino, the cooking of pasta dishes and the preparation of sandwiches. In essence, we ran a café to fund exhibitions in our gallery. It was extremely hard work but gave us a great deal of autonomy.
The café is no more but it served us well. It gave Hales time to get off the ground and we continue to reap the rewards of that decision made way back then. I am proud about the manner in which we began our venture and I enjoyed my role as chef/curator/dealer for many of those years. However, I am also glad that our success allowed me to focus on the art and I am eternally grateful that I no longer have to rely on my culinary skills in order to run a dynamic gallery.
What do you feel proud of?
The fact that Hales has been an enterprise of resourcefulness and innovation and continues to thrive as a business after thirty years. Often the most artistically adventurous galleries leave the business structures to one side and collapse because of a lack of attention to the fiscal basics. The reverse is also true. I am proud of the balancing act that we have performed and continue to do so. I think that we have changed the course of many artists careers for the better. We may even have contributed to an understanding of art history is some small way. I am personally proud that I was able to progress from my former job as a postman and hold it together sufficiently to develop a vision for Hales which in turn led to where we are today.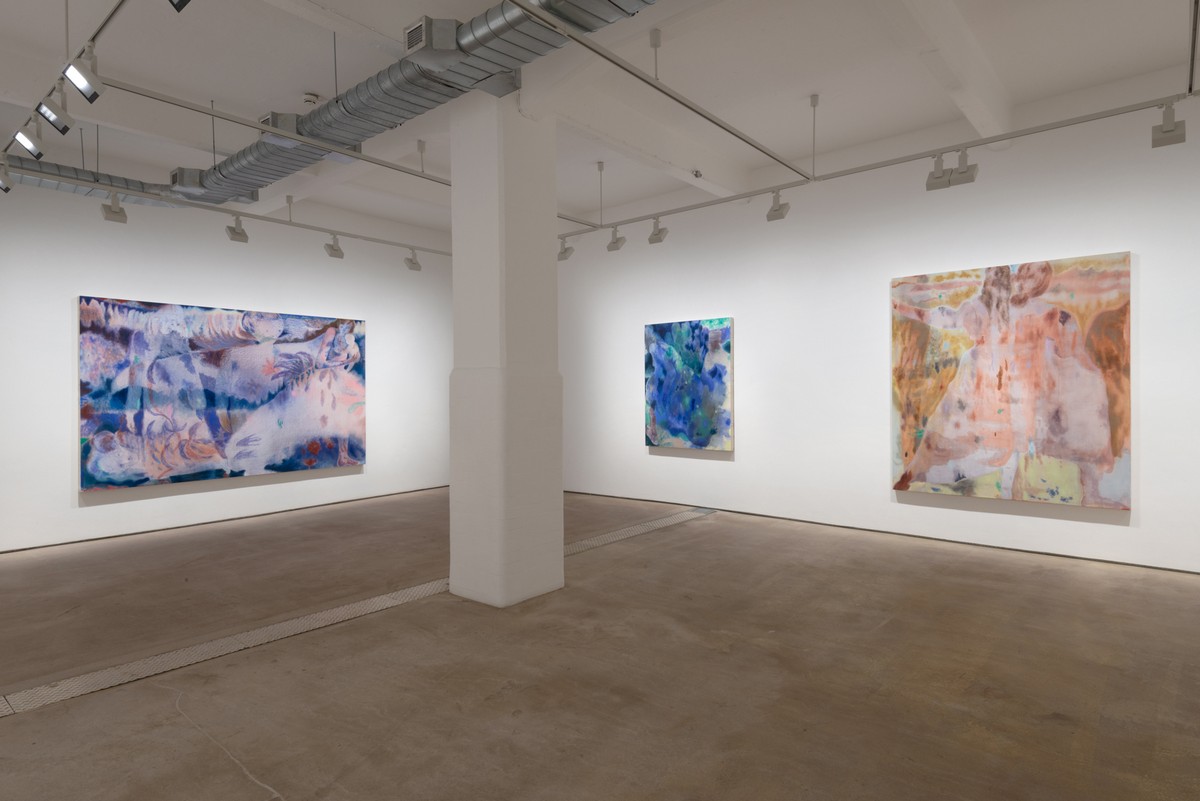 Maja Ruznic, Name of the Voice, 10 September – 24 October 2020, Hales London
How do you discover artists and what makes you finally decide you want to work with an artist?
All I can say on the matter is that I have to fall in love and be obsessed with the work initially. I do not see any way to avoid this personally. In reality, myself and the two directors, Sasha Gomeniuk and Stuart Morrison, bring together our discoveries and we think things through together. Decisions are never made lightly.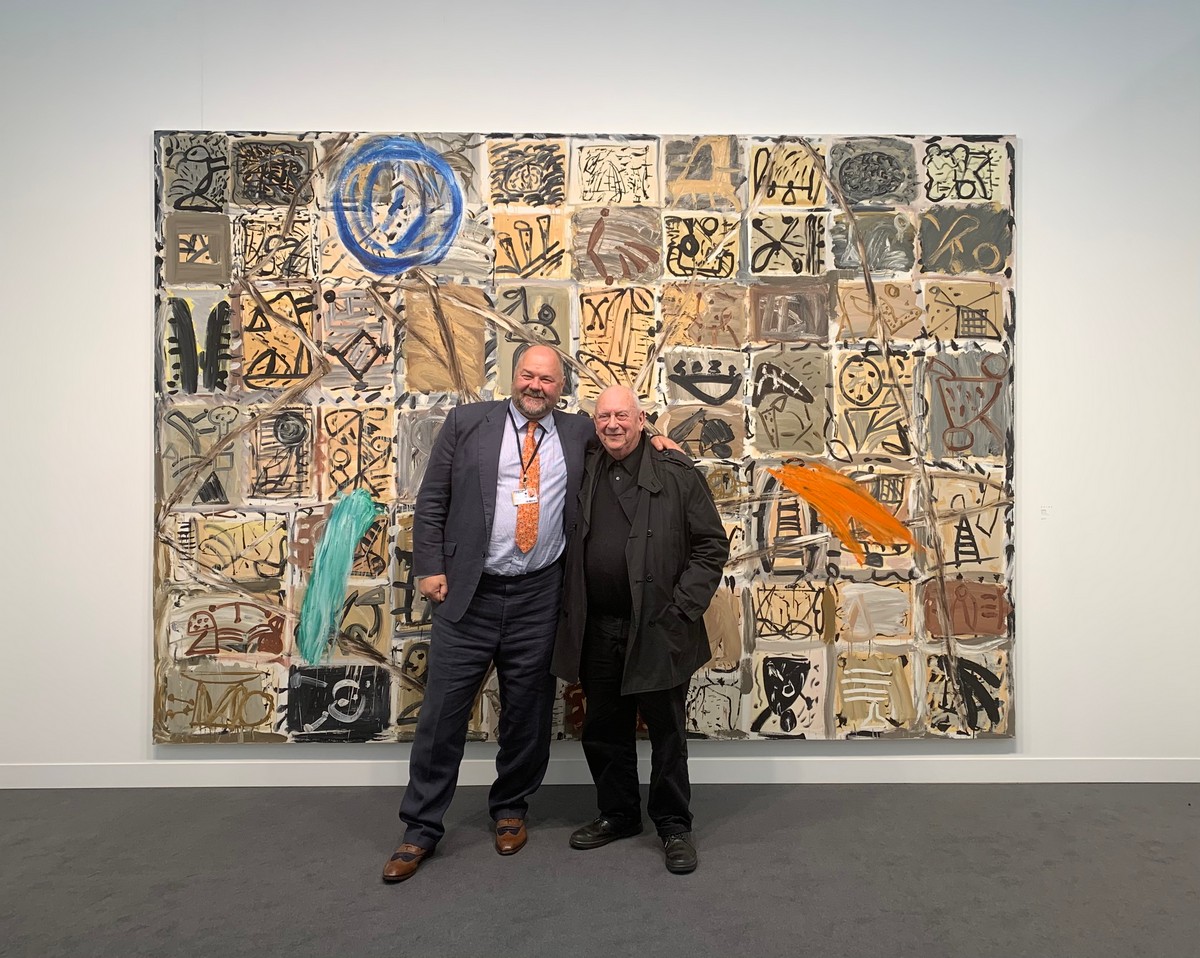 Paul Hedge with Basil Beattie, Frieze London 2019
How do you gauge which artists and artworks will be interesting to audiences?
Our job as a gallery (at least a very simplified version) is to:
a) get excited about artists ourselves
b) present and contextualise their works along with our findings to others
c) encourage contagion and financial exchange
It sounds straightforward but it really isn't easy!
Ask yourself, who are the people who make up the audience for the art shown at a commercial gallery? Are they the clients of the gallery?….or does the gallery have a responsibility to whoever decides to walk in on any given day? Or both? Again, ask yourself, are the works on show for the sole purpose of sales? or are commercial galleries a free service provided for the public? In my view, a gallery run for profit (which benefits both the artist and gallery team alike has unknowingly agreed to partaking in an extraordinary feat of dexterity and balance. As my uncle (who worked as an electrician for British rail all his life) once asked me "are you a shop, a showroom or a museum?"
I am still puzzling over that question!
Carolee Schneemann, More Wrong Things, 2017, Hales London
What kind of support or expertise do you offer or provide artists?
I think embarking on a career in art can be likened to leaping from an aircraft without the requisite understanding of how a parachute operates. Artists require that sort of freedom but it certainly has its dangers! Galleries try to provide a means of safe landing. Commercial galleries do much more than enact financial transactions but it is impossible to pin point exactly what will be needed for each career at any given time.
The best relationships between galleries and artists are ones of an unspoken understanding. Having said that, often the most direct support a gallery can provide for the artists is money. Money = freedom…at least in theory!
Paul Hedge and Omar Ba at Omar's Supernova Exhibition, Hales London, 2017
How do you go about building a market for an artist?
This is the area of a gallery's work I feel most able to contribute something meaningful to.
I think about this night and day…sometimes literally night and day (especially during lockdown)! I can only skim the surface with my answer here. I would like to supply you with a more nuanced reply, but it would run to pages of text…another time maybe?
Here are the basics. It is clear to me that art history has been written from a particular perspective which is not terribly sympathetic to many of the things and the art I care about and hold dear. Artists are often over looked and unjustly forgotten. It really doesn't matter at what point in their careers that this might take place. Their work is neglected for a reason but it is rarely because it isn't good or important. Race, gender, class are all issues that Hales has been concerned with since its inception and are often (but not exclusively) reasons for a historical re-assessment, re-analysis and finally re-presentation.
I often ask myself, why has this career been overlooked? What has this artist done that is important? What makes them stand out? Which particular moments are most relevant to a contemporary debate?…and finally, how can we at Hales present this in a dynamic way so that a wider audience can understand its relevance?
Contemporary art dealing is as much about providing an interesting narrative that runs parallel with an understanding of the work itself. Timing is also key. Often younger artists require more direct attention. A helpful word at the right moment can go a long way to progressing a career! In mid-career, artists need to have more control over their output. A gallery can help by assisting the artist to prioritize where their work will be best placed for the longer term.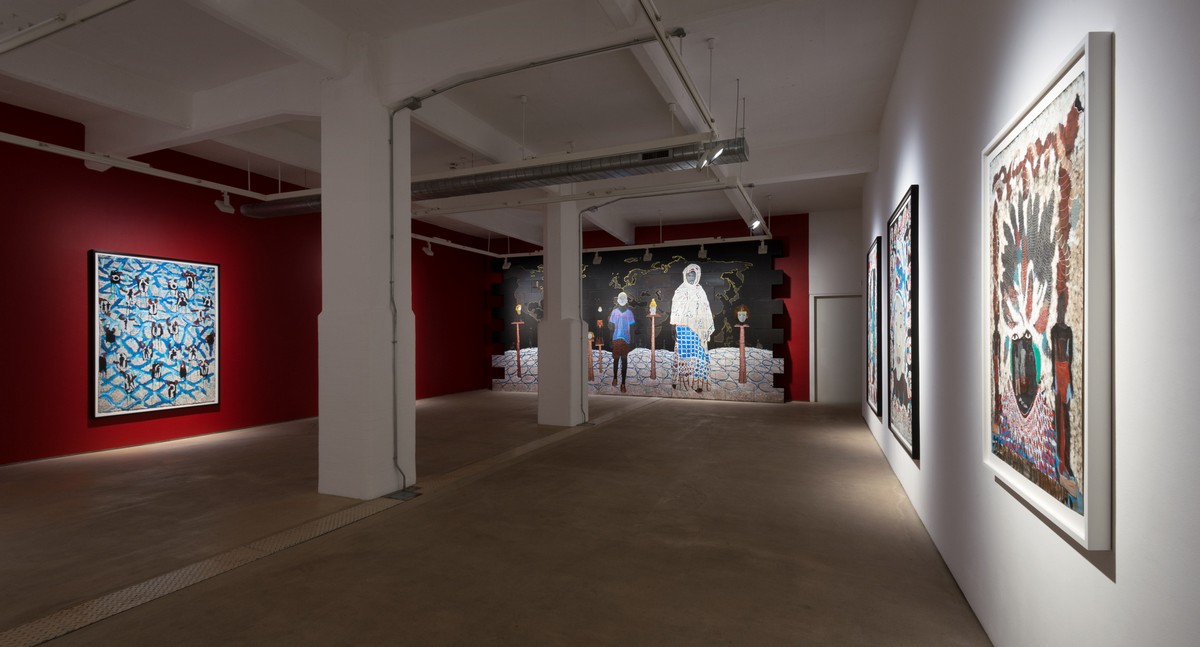 Omar Ba, Supernova, 2017, Hales, London
What risks have you taken that perhaps did not go so well but you learnt the most from?
It seems to me that entering into anything at all from the position of strength is unlikely to be a big risk. If you have pots of money and gamble with 5% of it then the risk is small and the result of losing is not likely to inflict irreparable damage. Not surprisingly, things are often weighted in favour of those with substantial resources to draw upon. What does one do in the face of such competition?
At almost every stage of developing Hales we have had to take some highly risky decisions, but at each juncture I draw upon our togetherness and the resourceful attitude we have developed as we find a way to deal with the problems. Taking risks has led to many successes and it has undoubtedly made us stronger and taken us to new heights.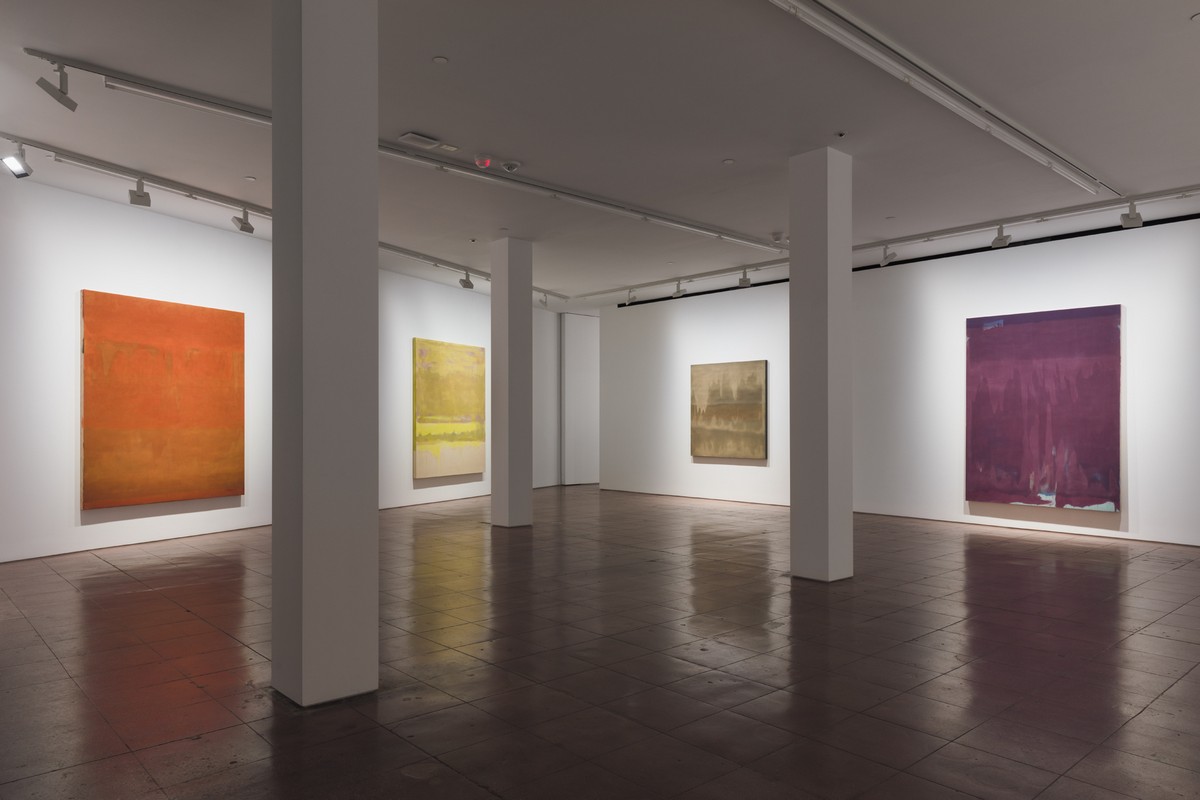 Virginia Jaramillo, Conflux, 10 September – 31 October, Hales New York, Photo by JSP Art Photography
What new strategies are you trying or considering in the current climate? How will you measure success?
In my lifetime, this has been the first global pandemic that I have faced (thank goodness). It is hard to know what to do in the face of it, except talk with my colleagues and artists regularly and try to put what we come up with into practice.
The art world will inevitably learn to live with Covid but it is likely to trigger a root and branch reassessment of our current business practices and usher in a new way of doing things.
This presents opportunity. I like to think that the Hales team is independently minded enough to be at the forefront of that innovation and also smart enough to recognise the breakthrough's made by others which can be adopted to improve our own lot.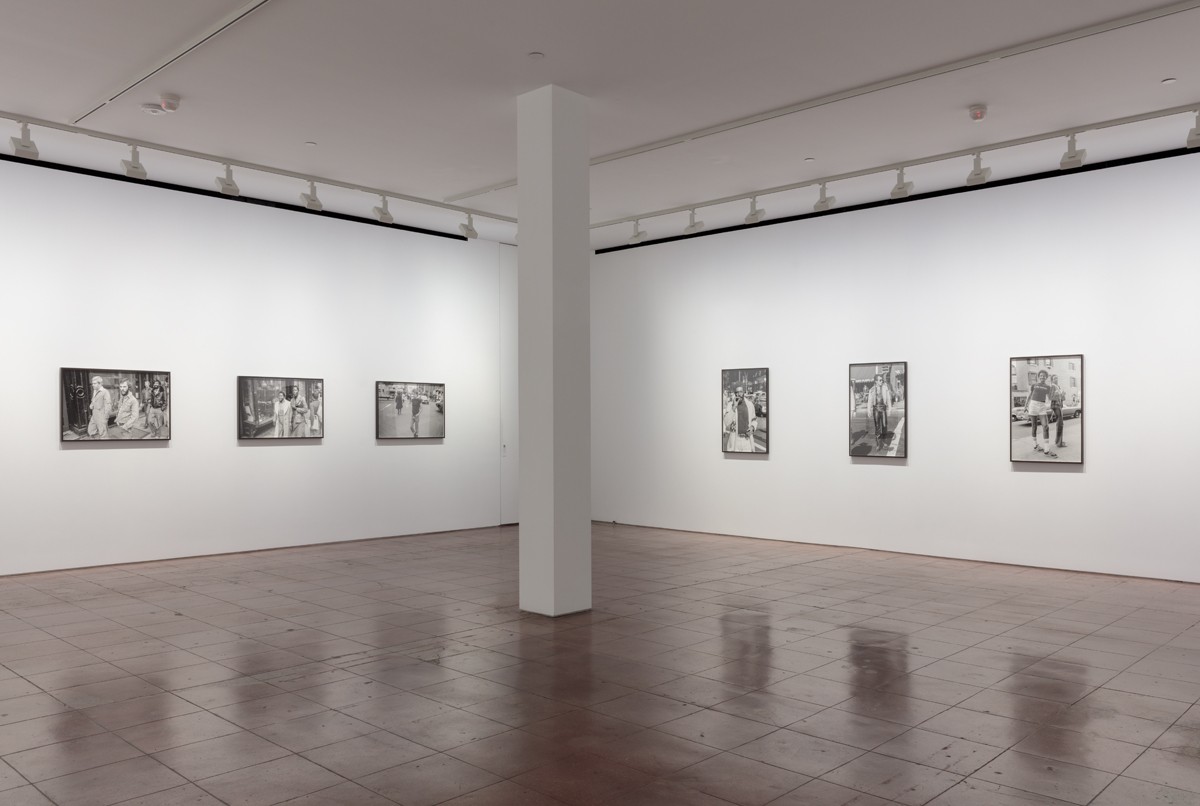 Sunil Gupta, Christopher Street, 30 April – 1 June 2019, Hales New York, Photo by JSP Art Photography
What insight from your experience in the art world would you like to share to empower others?
It goes full circle to your very first question…and my reply "Enjoy yourself, it's later than you think"!
Try and take pleasure in what you do at every stage. Granted, sometimes it isn't easy. It takes perseverance. Remember to take time to reflect on your achievements whilst simultaneously attempting to shape the future.
I often think to myself, how can I begin to effect change for good with the resources I have available right here right now? This approach has helped me immeasurably throughout my career.
Follow Paul on Instagram @_paul_hedge_ @halesgallery and visit the gallery website Hales Gallery
Please share this interview
[DISPLAY_ULTIMATE_SOCIAL_ICONS]
And do feel free to email or contact us via socials @cerihand