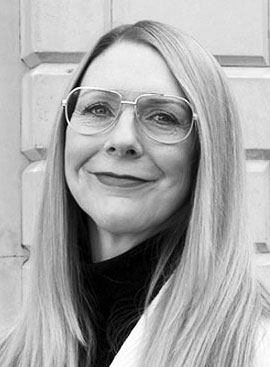 I'm a big fan of Eve Ackroyd's paintings that conjure the everyday magical and mysterious inner worlds of women. Her paintings are simultaneously witty and haunting; Ackroyd's women appear dreamy, defiant, aloof, brooding and beguiling. Long and languid women meld their exaggerated limbs with the domestic contexts they appear in. They wait, patiently wondering in the half-light, seeming to exist in between, they neither need nor depend upon us. Her moody mix of ice-cream and midnight colour palette summons evocative atmospheres, glowering exchanges and furtive glances, captured with a delicate lick of the brush.
Read on to discover what she's grappling with in the studio and what fuels her engine…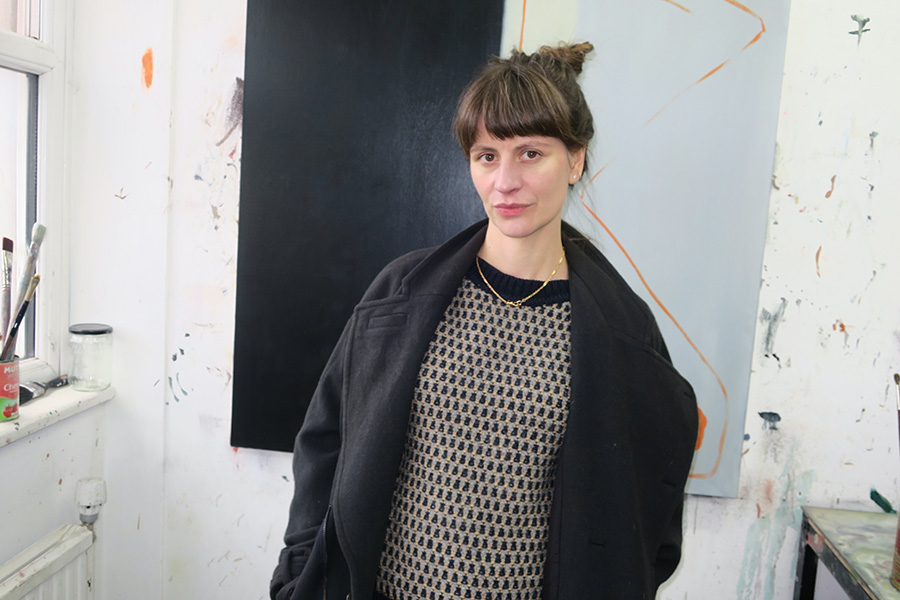 Artist Eve Ackroyd, Photo by Rod Stanley
Eve Ackroyd (born 1984, UK) studied painting at Chelsea College of Art & Weissensee School of Art in Berlin. Recent shows include Fifth Floor Apartment, Turn Gallery, New York; La Banda, TV Projects, New York; Within Without, Project Art Space, New York; Interior Landscapes, Assembly Room, New York; Living and Real, Kapp Kapp, Philadelphia; Sweet Cheeks, Big Pictures, LA and Subject III, Cob Gallery, London. Her work has been written about for FT, Times, Brooklyn Rail, I-D, AnOther, Dazed & Confused, Artsy and Hyperallergic.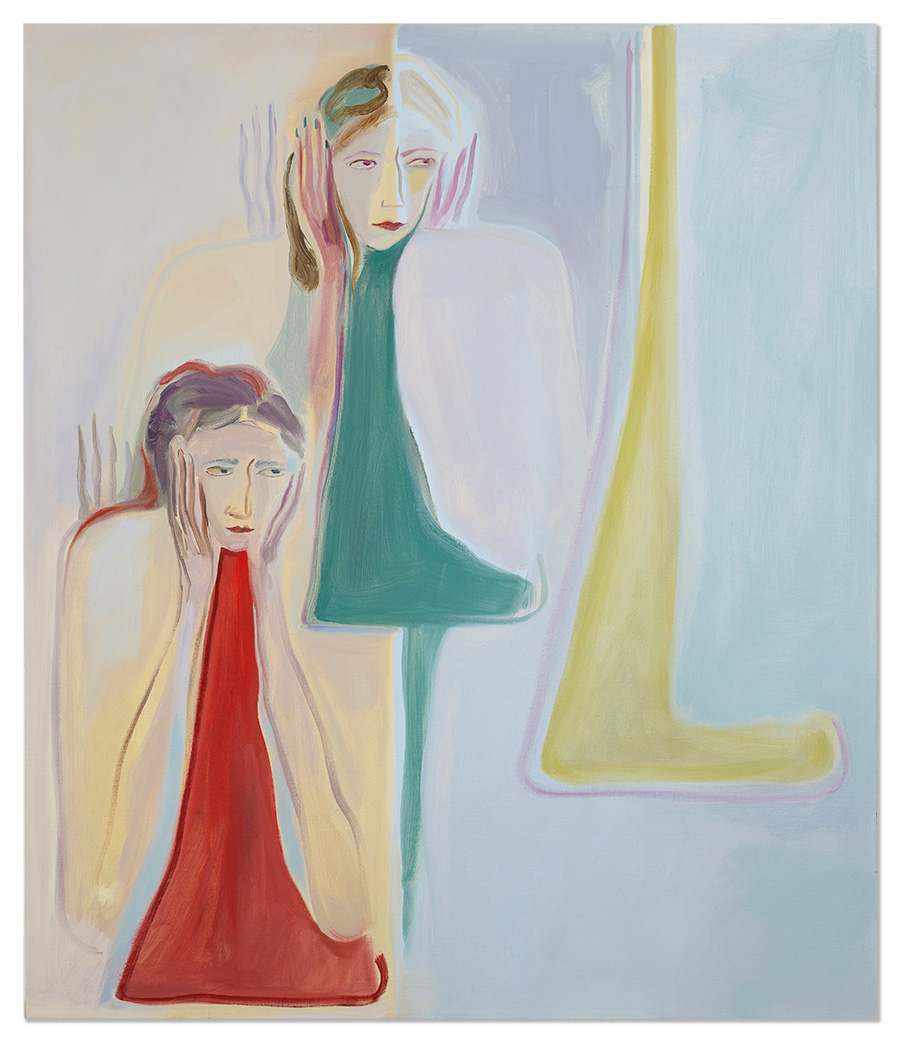 Little song, 2020, Oil on linen, 36 x 42 inches/ 91.4 x 106.6 cm

My mother and her sisters appear in my paintings, specifically my memory of them when I was a child. I saw my mother transform in their presence, to someone separate from me. In bedrooms clothes were exchanged and in kitchens the day-to-day of the domestic world were shared with an ease which made our home seem lighter and unburdened. Their chat sometimes turned to laughing whispers, a language that I couldn't decode. Their bodies intrigued me, they were as familiar as my mothers, but when together an intimacy weaved between their bodies which intimidated me in its voluptuousness and confidence. I now understand the beauty and pleasure I felt was in witnessing them together in this way, separate from any male presence. My childhood memories of womanhood are contrasted with my now adult self, and this continues to interest and drive all my work. Much of my personal iconography is formed from these memories, 80s hairstyles, costume jewellery, triangular bushes, and painted fingernails.
In literature and film, I seek stories of female friendships – which I find the most compelling and complex of all relationships. I observe women in film, such as Vera Chytilov's boldly coloured, visually distorted anarchic tales and Chantal Akerman's real-time observations of women's inner lives. I have also taken idealised forms from a 1970s Allen Jones calendar that hung in my home as a child, which both disturbed and fascinated me. I draw upon these worlds to create expansive imaginary places, contrasting potent images of my childhood imagination against my adult self, with its conflicting notions of femininity, motherhood and sexual expression. My women are flawed and bright, full of dissatisfactions, depressed but funny, sensual, and single minded. I always want them to be precise, funny and candid.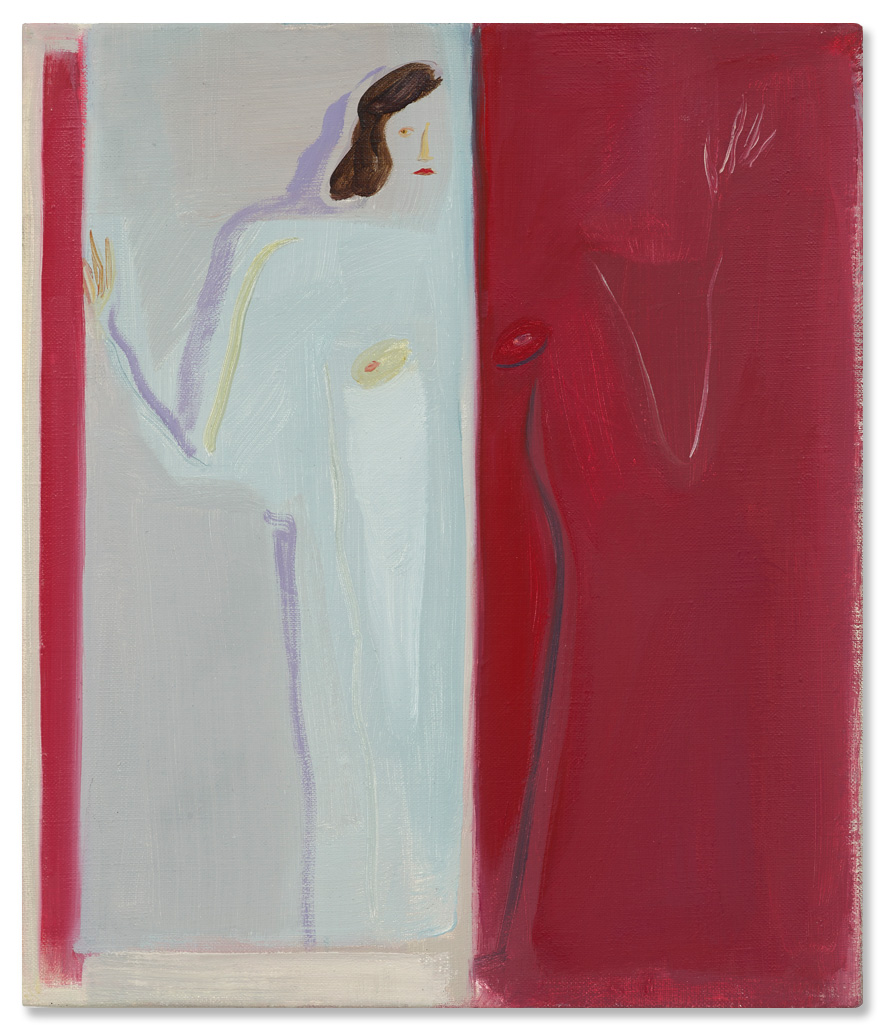 Window figure, 2021, Oil on linen, 11.8 x 13.8 inches/ 30 x 35cm
What are you currently grappling with in the studio? 
Planning work – I'm impatient and when I get an idea I want to get going straight away, though I should plan more beforehand. I have quite a high 'scrap' rate and I think I could reduce this with a little more strategic thinking. It makes me a little sad to see a once beautifully primed canvas be unstretched and restretched. Having said that, I am getting better at accepting that the weeks of frustration in the studio often lead to magical, effortless periods of painting. I'm trying to reframe how I've previously felt about failure (for my sanity). Also not overworking things – leaving space in a painting and a balance, which I usually know straight away if it is there or not. Leaving the studio and readjusting to the rest of the day – not brooding on successes or lack of them that day. Going to bed and knowing that tomorrow is a new day in the studio.
What rituals do you have in the studio?
I get in around mid-morning after dropping my kids at school and walking my dog. I'm often greeted by a mess having left in a rush the day before, so I'll clean my brushes, clear some space on my desk, make a coffee and often eat all my packed lunch by 11am.
I faff around a bit more, email, look through some images, make some quick sketches and when I can't procrastinate any more, I get changed into old clothes and start painting. From then on, I'm engrossed in only that, I don't stop to take phone calls. School pick-up time comes around fast, and I normally leave in a massive rush, but I always wipe the paint off my brushes and pour a little oil on the tips – I've ruined so many in the past and I really try to look after them now. I used to take a quick photo of whatever I'd made that day, and if I thought it was good, I would keep looking at it on my phone when I got home, but often I'd find I'd left the studio feeling happy but would then agonise over the images of the paintings- picking apart all the things that were wrong with it. It would often drive me to get in my car at about 10pm and go back to the studio to continue painting late into the night. Then I'd be too wired to sleep and looking back over the photos on my phone the morning after, I'd normally wish I'd just left the painting be, which would make me feel bad for days! So, I try not to photograph work in progress now, I shut the door and leave the work be, until I'm next in – hopefully in the cold light of day.
Still evening, 2022, Oil on board, 8 x 10 inches/ 20.3 x 25.4 cm
What's your preferred medium?
Oil! I painted in acrylic for a couple of years when I had a home studio in Brooklyn, and it felt like I was in a bad relationship. I know loads of great painters who make beautiful work in acrylic but I'm in love with oil paint. It smells great, is endlessly adaptable and I feel constantly challenged and amazed by what it can do.
Which artists' work do you think about most often?
Now I'm looking at a lot of colourists – Craigie Aitchison, Milton Avery, Winnifred Nicholson. Favourite artists I return to look at again and again – Goya, Rene Daniel's, Alice Neele, Philip Guston. Some of my favourite contemporary artists whose work just blows my mind are Salman Toor, Xinyi Cheng, Lynette Yiadom-Boakye, Tala Madani, Reggie Burrows Hodges, Lois Dodd, Christina Quarles, Sanya Kantarovsky, Jill Mulleady.
What new skill/s would you like to learn?
I'd like to have a deeper knowledge of colour and how different pigments are made alongside more technical understanding of paints, and how to mix beautiful blues that only shine when I want them to (blue is the colour I most often get into trouble with)! Other skills I desire – better bookkeeping, to be able to speak Spanish and not so much a skill but making more time to go out dancing.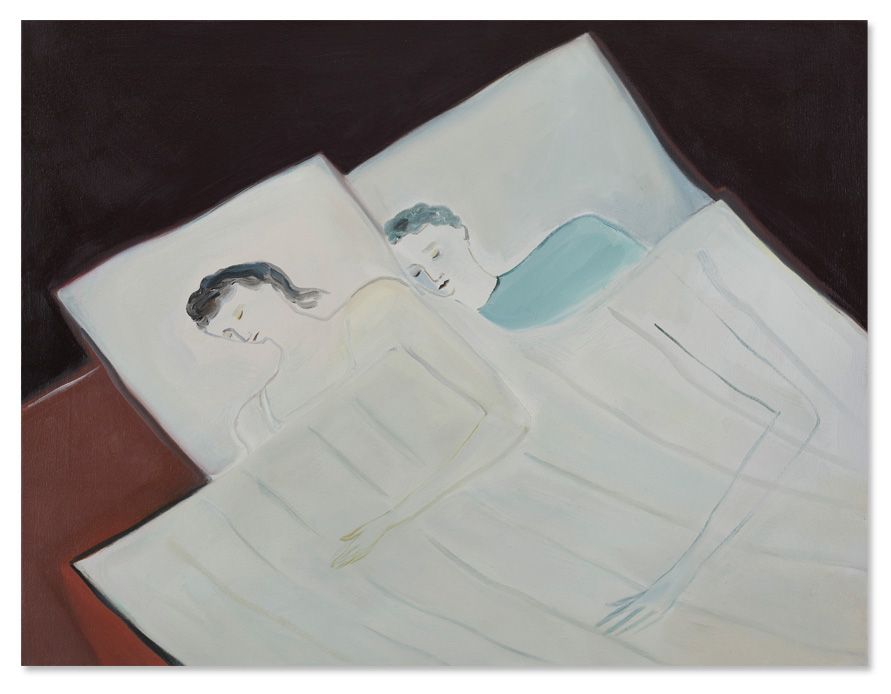 Couple in next apartment, 2021, Oil on canvas, 34 x 26 inches/ 86.4 x 66 cm
What are you reading, watching, or listening to, to fuel the creative engine?
I've just started Everybody by Olivia Lang, in which she writes about the quest for bodily freedom. I recently finished her book Funny Weather: Art in an Emergency – which is a collection of essays about the necessity for art. She writes with real curiosity and a lot of intimacy – blending many brilliant thinkers' biographies alongside her own experiences. I just finished Nightbitch by Rachel Yoder in which a mother with a young child turns into a dog. I thought it was very clever, but I didn't love it, though I do like metamorphic tales, especially with women. A couple of the best books I've read over the last few years and still think about are – Lustre by Raven Leilani and My Year of Rest and Relaxation by Ottessa Moshfegh – in them they've both created extremely compelling, complicated women. I think about the women in my paintings like characters in novels and I get a lot of pleasure and ideas in great fiction. I love reading the New Yorker and The Atlantic for politics, art and book reviews and brilliant long-form writing about things like 'hot streaks' in creativity and how big decisions are made. I get a lot of ideas for my work from films and often make quick sketches from memories of them which are often the starting points for the compositions in my paintings.
I used to go to the cinema a lot when I lived in NY – but since the pandemic I mostly watch them at home and intermittently subscribe to Criterion (with the help of a VPN). But I have much stronger visual memories of films that I've seen in the cinema. BAM and Metrograph both have excellent film series – and I got to see many of my favourite directors work there – Vera Chytilova, Agnès Varda, Claire Denis, George Romero, Chantal Akerman. Music keeps me happy in the studio – Mary-Anne Hobbs on BBC each morning, techno Tuesdays are the best. My sister and our shared Spotify playlist – though my kids share my account so there's often some very strange Russian meme music that comes on and lots of Rihanna and Dua Lipa from my daughter (which I am more than fine with).
Walk, 2020, Oil on canvas, 12 x 14 inches/ 30.5 x 35.5cm
What helpful resources would you recommend to artists?
The excellent Artist Mentor Newsletter and Ceri's great words of wisdom posts on Instagram. I love Heather Havrilesky's newsletter – both her Ask Polly agony aunt one and her evil alter ego Ask Molly. A lot of tormented artists write to her, and she always has good (if very lengthy) advice on how to remain sane and keep on doing whatever it is you're doing. 5 x 15 has some great free online discussions with authors, journalists and cultural icons and the podcast Talk Art – I find Rob Diament and Russell Tovey's enthusiasm very infectious and they talk to loads of amazing artists.
Which guests would you invite to your fantasy dinner party?
Lucia Berlin, Missy Elliot, Anjelica Huston, Grace Jones, Leonard Cohen, Little Richard and Kurt Vonnegut. I'd keep the drinks flowing and watch everyone get rude
Follow @eveackroyd on Instagram or visit www.eveackroyd.com
All artwork photos c/o Andy Keate